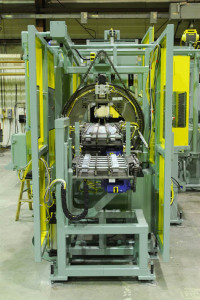 Material Handling and Transfer Systems are the critical link between your various industrial/manufacturing processes.

Our design team will work closely with you to understand the process in which the equipment will be used depending on your requirements and job needs. We can design your high quality, innovative Material Handling and Transfer System to satisfy your complete range of your material handling requirements.
When it comes to custom Material Handling and Transfer Systems, the total experience of Link Mechanical Solutions goes to work for you to ensure the right end product arrives on time, every time.
Our core competencies include
Belt (Wire Mesh/Solid Mat Top)
Mat Top Chain
Dual Strand Chain
Accumulating Roller Chain
Fixtured Chain / Palletized Chain (Constant Speed or Indexing)
Roller Conveyor (Friction Roll / Zone Control / Gravity Roll)
Over and Under Type Palletized
Lift and Carry Walking Beam
Shuttle
Roll Bar Type Shuttle
Lift and Roll
Pick and Place Gantry Systems
Robot Ends Of Arm Tooling and Integration